Household garbage
Garbage collection takes place every second Monday.
Starting July 8, 2022, the organic waste collection will begin for industrial, commercial and institutional buildings. The household waste collection will then be every two weeks, year-round as the residential sector.
Consult the collection dates
Collections
The bins must be placed at the curb between 7 p.m. the day before and 6:30 a.m. the morning of collection. They must be removed the day after collection. It is recommended that garbage be placed in rigid plastic or metal containers with a lid to avoid visiting wildlife.

The maximum allowable allowance for the rolling bin is 360 liters. Wheeled bins must be gray, green or black and they must have a European plug.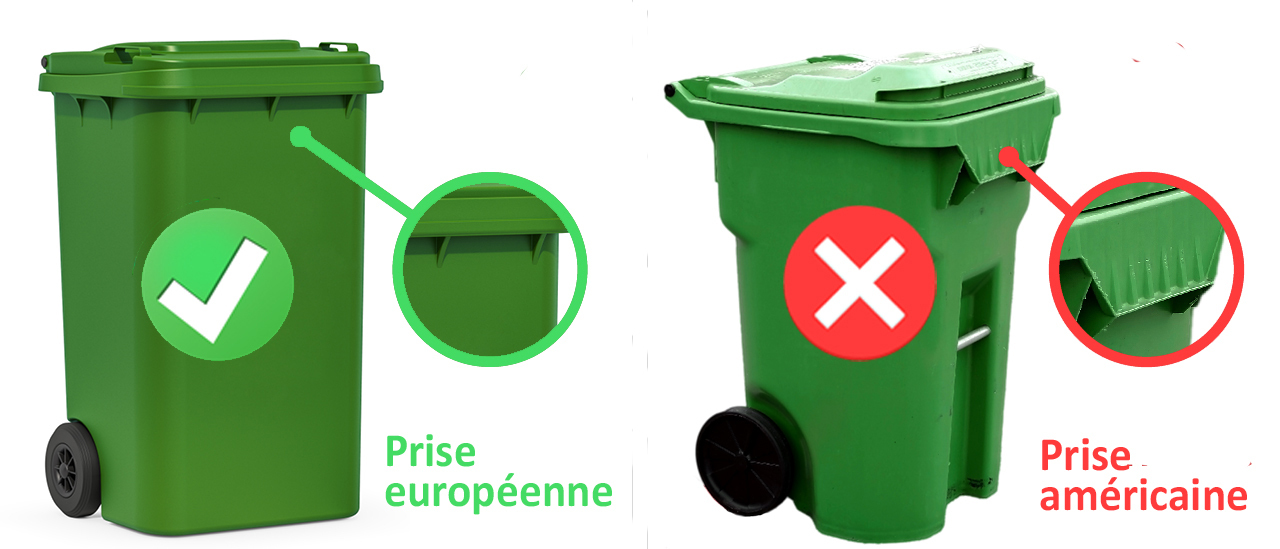 Since it is manually lifted by garbage collectors, the capacity of the garbage can be limited to 100 liters. Maximum weight is limited to 25 kg.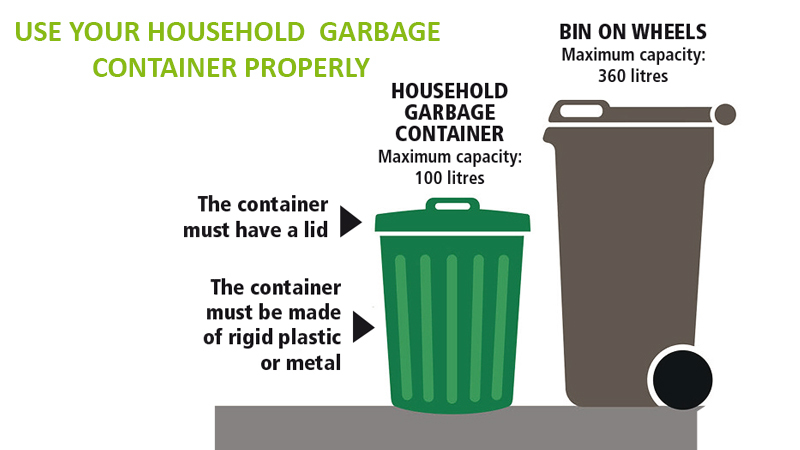 Collectors can pick up waste materials between 7 a.m. and 8:30 p.m. If they still have not come after this time, please leave your bin at the curb and notify the Environment Management division at 450-466-3199 or at environnement@saint-lambert.ca. Thank you for your collaboration!
Prohibited in the regular waste
Some items are not accepted in the household garbage collection:
All large waste and objects such as furniture, mattresses, carpets, etc., are not picked up with the regular household garbage. There is four collections per year for those oversized items.
Halocarbon-containing appliances
Halocarbon-containing appliances that are harmful to the environment, such as refrigerators, freezers, air conditioners, dehumidifiers, etc., are not picked up with the regular household garbage.
You must bring your halocarbon-containing appliances to an ecocentre or consult the Directory of recyclers to find a place where you can properly dispose these items. Moreover, we strongly recommend that when you purchase a new appliance, you include a pick-up for your old appliance in the sales contract.
You may not place construction, renovation, and demolition waste such as lumber, ceramic, toilets, etc., out with the regular waste. You must bring these items to an ecocentre or have your contractor remove them.
Hazardous household waste
We ask that you bring your hazardous household waste (HHW) to an ecocentre, where it is accepted year round. Products such as paint, solvents, oils, pesticides, etc. are harmful to the environment and to human health if they are not properly disposed of.

Dispose of used batteries, printer cartridges, chlorine, and cell phones in the recycling containers available at City Hall, the library and the recreation centre.
Tools for multi-unit dwellings
The Ville de Saint-Lambert is offering stickers for multi-unit dwellings to put on waste containers or garbage chutes as a reminder of which materials are not accepted in the collection. These stickers, measuring 13 in. X 13 in., are available at City Hall from the Environment Division for as long as stocks last.
You can also download the visual and print it yourself (in French):

Alternatives for waste materials that are not accepted
To present the alternatives available for getting rid of waste materials not accepted in the regular garbage or recycling collections, the city also suggests displaying the poster on the Agglomération de Longueuil ecocentres and the materials accepted there, near the collection containers.
You can download or print this poster from the Agglomération de Longueuil's website.