Organic waste
Organic waste is collected every Wednesday during summer, from April 6 to October 26, 2022. During winter, it is collected every two weeks.
For buildings with 9 or more dwellings units, organic waste is collected once a week year-round.
Starting July 8, 2022, the organic waste collection will begin for industrial, commercial and institutional buildings. The household waste collection will then be every two weeks, year-round as the residential sector.

Consult the collection dates
The bins must be placed at the curb between 7 p.m. the day before and 6:30 a.m. the morning of collection. They must be removed the day after collection.
You must place your bin on your property near the sidewalk. The lid must be tightly closed. No material should protrude out of the bin or be placed beside it. You must leave a clearance of 1 m (3 ft) around the bin.
In order to allow for mechanized collection, only the wheeled bins provided for this purpose are accepted.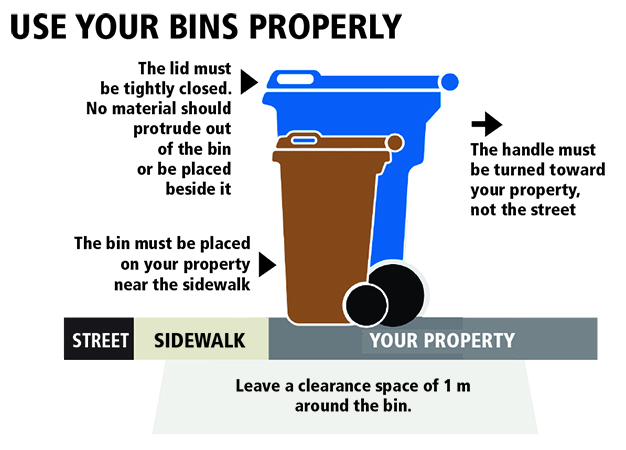 Collectors can pick up waste materials between 7 a.m. and 8:30 p.m. If they still have not come after this time, please leave your bin at the curb and notify the Environment Management division at 450-466-3199 or at environnement@saint-lambert.ca. Thank you for your collaboration!
What is going in the bin?
Raw or cooked food scraps without packaging
Fruits and vegetables (pits and peelings)
Coffee and tea (beans, coffee grounds, filters and tea bags)
Meats, poultry, fish and seafood (bones and soft shells)
Grains, bread, pasta and rice
Solid dairy products
Eggs and shells
Nuts
Other: pet food, flour, sugar, and table leftovers
Soiled paper and cardboard
Paper towelling, facial tissues and table napkins
Newspapers
Soiled food boxes (e.g. pizza boxes)
Soiled cardboard dishes
Paper bags with or without cellulose coating
Wax paper
Green waste (in small quantities)
Grass clippings and turf
Yard waste and horticultural waste
Recyclable materials (plastic, clean paper, glass and metal)
Multilayer containers (e.g. Tetra Pak)
Metal or plastic dishes and cutlery
Liquids
Polystyrene
Paper towelling that has been moistened with a cleaning product
Sanitary products and diapers
Construction, renovation and demolition debris
Hazardous household waste (HHW)
Medications and biomedical waste
Cosmetic products
Pet litter
Dead animals
Branches
Leaves
Regular, oxobiodegradable and compostable plastic bags
Dead leaves and branches are not accepted in the brown bin because they no longer contain chlorophyll (pigment responsible for the green color), which fuels biomethanation. You must therefore dispose of your dead leaves during green waste collections.The Ville de Saint-Lambert is offering 12 green waste collections between spring and fall.
To obtain a recycling bin
If you regularly have too much organic waste, it is possible to purchase an additional brown bin. You can contact the Environment Management Division at 450 466-3199 or environment@saint-lambert.ca for details.

Moving? Make sure to leave your recycling bin and your little kitchen bin for the next occupants. Recycling bins are the property of the municipality and belong to a specific address.
Why introduce organic waste collection?
The Ville de Saint-Lambert is proud to begin as of next spring its implementation of organic waste collection in our community. It represents a first step toward achieving the Quebec government goal of banning the burial of organic material by the year 2020.
In fact, far too much residual material still goes to landfills every year in Quebec, constituting a major source of pollution. The recovery of organic matter through biomethanation will help create a source of energy and fertilizers.
By the end of the first year of its organic waste collection service, Saint-Lambert estimates that it will have prevented around 500 tons of organic matter from going to landfills, representing 45% of the current contents of garbage cans.
The importance of proper sorting:
Proper sorting and waste reduction at the source limits the amount of garbage sent to landfills and its harmful effects on the environment.
Recovering and recycling give a second life to many materials.
Approximately 45% of your household waste can go into your brown bin.
If you sort properly, there'll be almost nothing to put in your household garbage container.
Tips and tricks
Prevent odours, maggots and fruit flies
Wrap your food scraps in old newspaper, paper bags or cardboard.
Freeze smelly leftovers (meat, fish, etc.) until collection day
Sprinkle baking soda in the bottom of your bin.
Place your bin in the shade, and put it out for collection every week even if it's not full.
Rinse your bin out with water and detergent, or with vinegar.
Line the bottom of your bin with a few sheets of newspaper or cardboard to prevent the organic waste from freezing or sticking to it.
Rub a little cough ointment (such as Vicks®VapoRub™) on the top edges of your bin to keep small animals away.
Questions?