Green waste
Green waste collections take place 12 times a year in the two sectors on the same day.

Consult the collection dates
Collections
The bins must be placed at the curb between 7 p.m. the day before and 6:30 a.m. the morning of collection. If you use bins, they must be removed the day after collection.
Green waste consists mainly of grass clippings, dead leaves, hedge trimmings, plant and flower waste, etc.
Green waste for collection must be placed on edge of the sidewalk in approved containers:
a regular garbage bin, equipped with handles and an airtight lid and having a maximum capacity of 100 litres;
a biodegradable disposable paper bag, with a maximum capacity of 150 litres;
a grey, black or green wheeled bin with European grip equipped with lid, maximum capacity of 360 litres.
Maximum weight is limited to 25 kg. Rigid containers must be clearly identified to distinguish them from waste. We remind you that you must use paper bags for these collections, plastic bags are prohibited.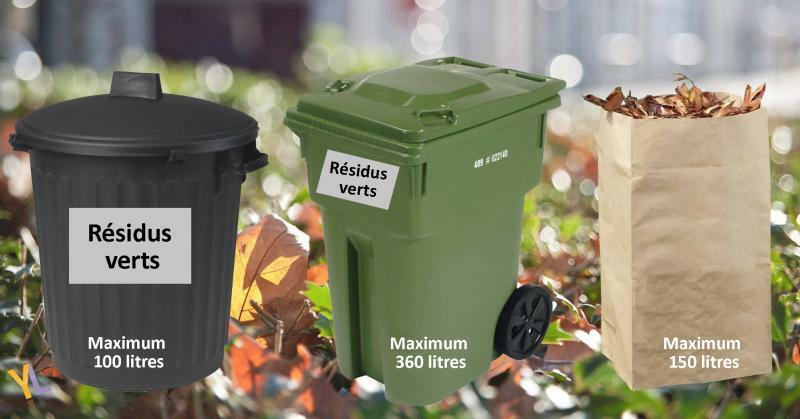 Collectors can pick up waste materials between 7 a.m. and 8:30 p.m. If they still have not come after this time, please leave your bin at the curb and notify the Environment Management division at 450-466-3199 or at environnement@saint-lambert.ca. Thank you for your collaboration!
Branches
Branches are now accepted in the green waste collection, under certain conditions:
Branches must be less than 5 cm in diameter.
Branches may not be longer that 1 m.
Branches must be tied in bundles of not more than 40 cm in diameter.
Anytime, you can dispose of your branches and your wood (logs, stumps, chips, firewood, etc.) by taking it to the Écocentre Marie-Victorin or to the Écocentre Payer.
Christmas trees
Two Christmas trees pickups take place in January.

Please remove all decorations before placing your trees outside for pick-up. Also be sure NOT to wrap your tree in a plastic bag, or it will not be picked up.
Grass
Experts recommend to leave grass clippings on the lawn. They keep your lawn from drying out and provide it with nutrients. Lawn mower blades help to facilitate cycling.