Pets
To ensure that all residents enjoy quality of life, the Ville de Saint-Lambert has a number of rules that pet owners are required to follow. The City is also responsible for ensuring animal control on its territory.
Pet owners' responsibilities
When you become a pet owner, you undertake to obey certain rules.
It is prohibited to have more than two pets. In other words, you can have a dog and a cat, two cats, or two dogs.
It is prohibited to keep a wild animal, farm animal, or exotic animal as a pet on Saint-Lambert territory (e.g. snakes, reptiles, tarantulas, chicken, ducks, or monkeys).
Bull Terriers, Staffordshire Bull Terriers, English Bulldogs, or any dogs related to these breeds, as well as dangerous and aggressive dogs, are prohibited.
Any animal kept in your yard must be restrained by a device (such as a cable, leash, or fence) that prevents it from leaving the property.
It is prohibited to let an animal bark or howl in a way that disturbs the public peace
Dogs must be kept on leashes at all times and leashes can measure no longer than two metres.
You are required to pick up and dispose of your dog's waste properly so as to keep the environment healthy and clean for everyone.
Dogs are not allowed in parks or green spaces, on sports fields or in municipal buildings, unless the signs indicate otherwise.


If you are allowed to be on the trails with your dog on a leash, the poster above will clearly state it.
Dog and cat licences
Since September 1, 2023, the Ville de Saint-Lambert has mandated the SPCA Roussillon to manage animal licenses. You can therefore obtain a license for your pet directly from the organization.
Online

You can do so online via a dedicated platform: spcaroussillon.com/en/municipal-licensing. This platform lets you download documents (photographs; proofs of sterilization, vaccination and microchipping) and make secure online payments. It also allows citizens who find a stray pet wearing a licence tag to locate its owner using the search engine.
In person or by phone
Alternatively, citizens can register their pet in person at the SPCA Roussillon offices (80 Goodfellow Street, Delson), which is open 7 days a week, or by phone at 438-800-4156.
Pet owners who already have a licence will be contacted directly by the SPCA Roussillon to make the necessary transfer. They will receive their new licence tag by mail.
For any question, you can contact the SPCA Roussillon at 450-638-9698 or at info@spcaroussillon.com.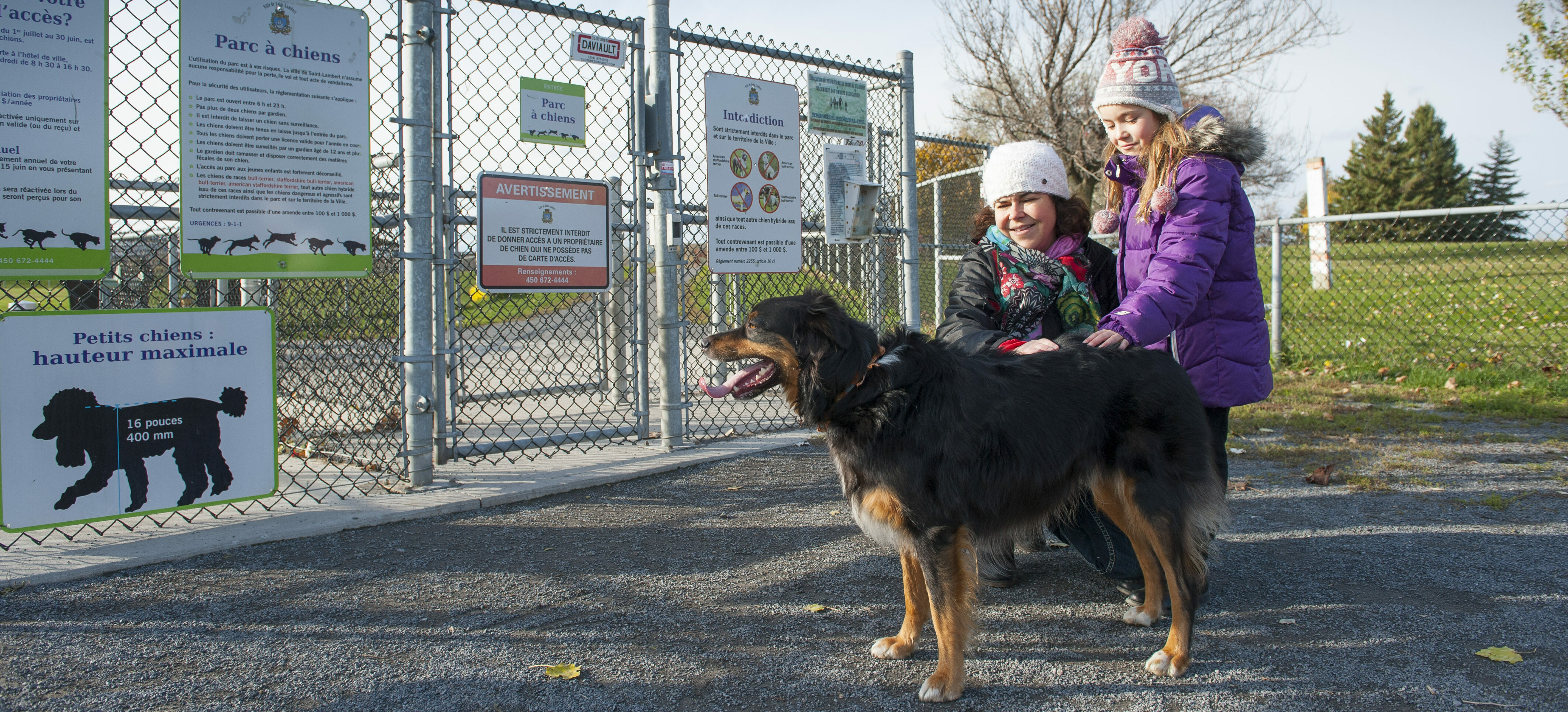 Dog runs
Your dog is welcome in the two fenced dog runs:
Seaway Park, that borders autoroute 132, on Riverside Street;
Lespérance Park, near the lawn bowling club and the community gardens.
Dogs can run free and play to their hearts' content, in pleasant and safe surroundings.
The dog run parks are equipped with a controlled access system. Therefore, to use the parks, you must have an annual access card.
Users can pick up a card at the recreation centre. Proof of residency and a valid dog licence (or the receipt for the licence) is required.

The access card is free for residents. Access cards are valid for one year and must be renewed annually.

Non-residents wanting to use the dog run must obtain an annual access card, at a cost of $125.

Users must hold on to their access card, as it is reusable from year to year. A $30 fee will be charged to replace a lost or damaged card.
Using the card
Once you have obtained your access card for the dog runs, here a few things to keep in mind:
The card cannot be perforated or modified;
We recommended keeping it in a card sleeve;
Use of the access card is strictly reserved for the registered dog(s);
A dog must wear its licence tag on its collar at all times to avoid a fine;
In case of loss or damage, a replacement fee will be charged to replace the access card and/or the licence tag (rates according to the by-laws);
If the card is no longer in use, please contact us at 450-466-3128 so that we can deactivate it.
Respect for these rules is essential if everyone is to be allowed to profit fully, and in complete security, from the services that are offered.
The dog run is open from 6 a.m. to 11 p.m.
No more than two dogs per handler.
It is forbidden to leave a dog unsupervised.
Dogs must be kept on a leash until they are inside the dog run.
Dogs must wear a licence valid for the current year.
Dogs must be continually supervised by a handler aged 12 years and over.
Handlers must "stoop and scoop" and properly dispose of their dog's poop.
It is strongly recommended not to bring young children into dog run.
Bull Terriers, Staffordshire Bull Terriers, English Bulldogs, or any dogs related to these breeds, and dangerous and aggressive dogs are strictly prohibited in the dog run.
Anyone who breaks these rules will be liable for a fine of between $100 and $1,000.
Animal control
The SPCA Roussillon is responsible for collecting and managing stray pets and any other types of injured, dead or threatening animals on our territory 24 hours a day and 7 days a week. You can report any such animals directly to the SPCA Roussillon at 450-638-9698, on Monday to Friday from 11 a.m. to 5 p.m. and on Saturday and Sunday from 11 a.m. to 4 p.m., or to info@spcaroussillon.com.
Outside of the opening hours of the SPCA Roussillon, if an animal poses a potential danger, you can contact the Service de police de l'agglomération de Longueuil (SPAL), which has a direct line to the SPCA Roussillon patrol team at all times.
Consult the By-laws page to find out about all the provisions of the pet-related by-laws in force on Saint-Lambert territory.