Emergency measures
In context
The Ville de Saint-Lambert has developed an Emergency Preparedness Plan to help ensure your safety. The measures in this plan are put into action in emergency situations that constitute a significant danger to your life or property.
The ice storm of 1998 is a good example of the type of situation requiring the deployment of emergency measures. Here are others:
Natural disasters (floods, tornados, ice storms, hurricanes, etc.)
Epidemics and pandemics
Transportation accidents (plane crashes, train derailments, etc.)
Toxic spills
Building or structural failures and collapses
Major fires, explosions or risk of explosions
Essential service failures (power and water)
We cannot foresee an emergency, but must prepare for the possibility. This is why the Ville de Saint-Lambert has developed and emergency preparedness plan designed to assist residents in the event of a disaster or emergency. It provides for various measures including emergency response and evacuation plans, mobilization of personnel, the opening of public shelters, the provision of food and water, and the implementation of any other measure required to ensure the safety of persons and their property.
In the event of a declared emergency, the City will assign its municipal employees to emergency tasks and call upon relief organizations and other responders as needed.
Be prepared for an emergency
Did you know that it's your responsibility to show foresight and make sure you can meet your own needs for a period of at least 72 hours? To help you do so, here is a simple, practical memory aid.
How should you prepare for an emergency?
In an emergency, you should be able to take care of your family for the first 72 hours, while rescue teams organize themselves and attend to the most vulnerable.
In a crisis situation, an emergency kit will allow you to meet the essential needs of your family while waiting for relief or the restoration of essential services. If you have to evacuate your house, you can quickly take it away.
Having an essentials kit and emergency plan on hand helps you deal with emergencies and keep you and your family safe.
Yet, according to the Department of Public Safety, nearly 85% of Canadians recognize the importance of having an emergency kit at home. However, only 40% of them have one. We are counting on you to correct this statistic!
Your emergency kit (located in an easy-to-reach place in your home)
In the event that you have to ensure your safety and that of your family in your home, you should keep an emergency kit containing the essentials listed below readily accessible at all times.
A bin to hold the articles for the kit
Drinking water (2 L/person/day, for 72 h)
Enough non-perishable food to last for at least 72 h
A manual can opener
Candles and matches
Hand-cranked or battery-powered radio (+ replacement batteries)
Wind-up or battery-powered flashlight (+ replacement batteries)
First aid kit (antiseptics, painkillers, adhesive bandages, sterile gauze compresses, scissors, etc.)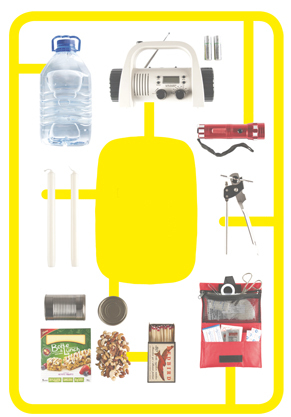 Your grab-and-go backpack (emergency shelter)
In the event that you have to evacuate your home and go to an emergency shelter, you should have the following essentials ready to go in your backpack:
Backpack to carry your essentials
Hygiene articles (toothbrush, towels, soap, garbage bag, etc.)
Medications
A change of clothing
Blankets
Cash, including smaller bills and change
Keys (car and house)
Personal papers and pieces of ID
If needed:
Special baby items (infant formula, disposable diapers, bibs, etc.)
Special pets items (food, medication, leash, etc.)
General tips:
Put these articles in a backpack or bin in advance.
If you are a person with reduced mobility, remember your cane, walker or wheel chair.
Emergency kit for your car: Visit the website of the Ministère de la Sécurité publique du Québec to find out what articles this kit should contain.
Preassembled kit: You can obtain a kit from the Canadian Red Cross, St. John Ambulance, the Salvation Army or certain stores.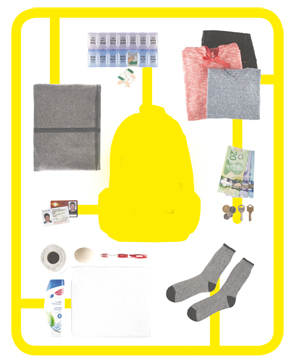 If you have an emergency plan, you will be ready to face an unforeseeable situation. You will also save yourself time and stress.
Keep the following information in one location that is always within easy reach:
Emergency contact numbers:
Emergency: 9-1-1
Info-Santé: 8-1-1
Centre antipoison du Québec: 1 800 463-5060
Hydro-Québec: 1 800 790-2424
Gaz Métropolitain: 1 800 361-8003
SOPFEU (forest fire): 1 800 463-3389
Important phone numbers:
Your children's school
Daycare
Doctor
Pharmacist
Insurer (home)
Insurer (car)
Contact person near your home
Contact person outside your immediate neighbourhood
Other people to be contacted
Home evacuation scenario:
Identify the emergency exits for each room.
Know how to turn off the water, electricity and gas, as the case may be.
In the event of an emergency, avoid taking the elevator.
Meeting places:
Identify two meeting places: one near your home and one outside your immediate neighbourhood
Route to take to leave your home:
Plan a route to get from your home to a safe destination. Plan an alternate route too in case some roads are impassable.
Make sure everyone in your home knows the emergency plan.
For more information on how to prepare an emergency plan, visit the Government of Canada's Get Prepared website.

What are the possible hazards and emergencies that can occur?
People in any region face a number of natural hazards (natural catastrophes) or probable emergency situations. Examples of probable emergency situations include ice storms, extremely heavy snowfalls, long interruptions in water service (bursting of a major water main), power outages, environmental accidents or hazardous product spills.
Learn more about these hazards and how to deal with them on the Government of Canada's Get Prepared website.
Be informed
Always vigilant about its residents' safety and security, the City of Saint-Lambert has put in place several measures to inform you in case of an emergency.

We ask that you pass on the information to your family, relatives, close friends, neighbours, and anyone else in your vicinity who could be affected by the situation under way. By doing so, you will help ensure your fellow residents' safety.