Back to news
Discover a variety of artistic disciplines in Saint-Lambert during the Journées de la culture
Published on 08 Sep 2023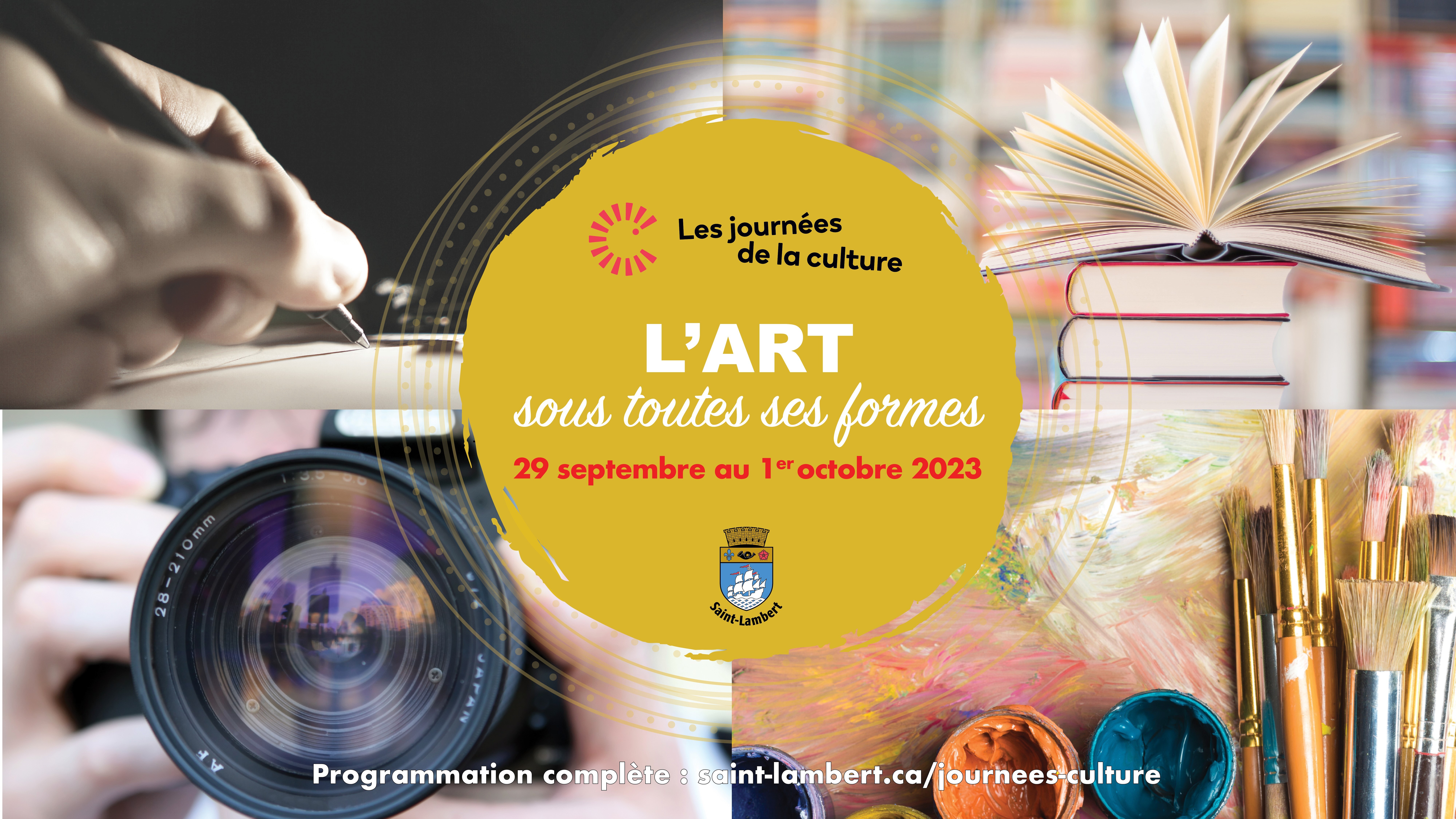 From September 29 to October 1, Saint-Lambert will shine the spotlight on arts and culture during the 27th edition of the Journées de la culture.
To mark the occasion, the Ville de Saint-Lambert will be offering a broad program of activities to allow residents to discover a variety of artistic disciplines along with the artists who practice them.
Program features:
Friday, September 29
Saturday, September 30
Jewellery-making workshop
In this workshop, participants will make two rings in their own image.


Exhibition of artwork by Photo Club Arémac
This exhibition features the works of artists from Photo Club Arémac. The Club prioritizes black and white photography as a medium for disseminating the challenges it presents and its vast evocative powers.


Puppet-making workshop
In this workshop, participants will make a puppet in the shape of an animal.


Atelier d'écriture débridée (in French)
Des histoires que l'on ignore dorment souvent en nous et n'attendent que l'occasion de naître! Lors de cet atelier, les participants découvriront l'écriture débridée, une manière à la fois simple et éprouvée de faire jaillir son imaginaire.


Art circuit
From 1 p.m. to 5 p.m., Balcon d'Art (650, Notre-Dame Avenue) and Galerie Vanasse (301 Saint-Denis Avenue) welcome visitors to admire the various paintings by exhibiting artists.
Sunday, October 1
Information and registration
All the activities are offered free of charge, but most require registration. Visit the Events section for descriptions of the various activities and the registration procedures.
Financial support
A number of the activities offered during the Journées de la culture are made possible thanks to financial support from the Government of Quebec and the City of Saint-Lambert, under the cultural development agreement between the Ministère de la Culture et des Communications and the Ville de Saint-Lambert.
Journées de la culture
The Journées de la culture is a province-wide event that was created to help showcase, strengthen, and accelerate the democratization of culture in Quebec. For additional information, visit www.journeesdelaculture.qc.ca.

Associated categories :

Arts and culture
Back to news