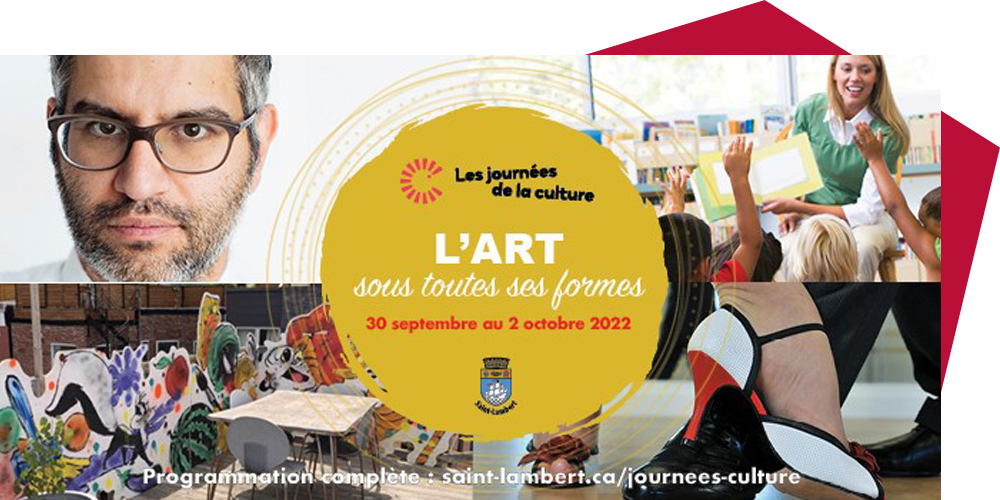 Back to news
Discover a variety of artistic disciplines in Saint-Lambert during the Journées de la culture
Published on 15 Sep. 2022
From September 30 to October 2, Saint-Lambert will shine the spotlight on arts and culture during the 26th edition of the Journées de la culture.
To mark the occasion, the Ville de Saint-Lambert will be offering a broad program of activities to allow residents to discover a variety of artistic disciplines along with the artists who practice them.
Program features:
Friday, September 30
Saturday, October 1
Saturday, October 1 and Sunday, October 2
Saint-Lambert art circuit
For the fourth year in a row, you'll have the chance to tour the studios of a selection of Saint-Lambert's artists to discover their creative environments: Yvette Grishina [CANCELED], Magali Thibault-Gobeil, and Jeffrey Hall.
Sunday, October 2

Meeting with author Alain Farah
A relaxed meeting during which you'll discover the works of Alain Farah (Mille secrets, mille dangers; Pourquoi Bologne; Matamore no 29).
"Autumn bowls" clay workshop with Diane Cardill [FULL]
Under the guidance of artist Diane Cardill, capture the beauty of fall by making a bowl of leaves from clay. An excellent introduction to etching and working with clay.
Musical Awakening Workshops
Offered by the Conservatoire de musique de la Montérégie, these workshops introduce young children to sound expressions by giving them a chance to discover different types of sounds and the various musical instruments that produce them.
Information and registration
All the activities are offered free of charge, but most require registration. Visit the Events section for descriptions of the various activities and the registration procedures.
Financial support
A number of the activities offered during the Journées de la culture are made possible thanks to financial support from the Government of Quebec and the City of Saint-Lambert, under the cultural development agreement between the Ministère de la Culture et des Communications and the Ville de Saint-Lambert.

Journées de la culture
The Journées de la culture is a province-wide event that was created to help showcase, strengthen, and accelerate the democratization of culture in Quebec. For additional information, visit www.journeesdelaculture.qc.ca
Associated categories :

Arts and culture
Back to news