Sports Hall of Fame
The Saint-Lambert Sports Hall of Fame was created in the 1980s to underscore and publicly acknowledge the accomplishments of athletes, teams, coaches, and all those who had helped build a vibrant program of sports activities in the community.
The Sports Hall of Fame was revived in 2008 to continue the tradition of paying tribute to those who, through their remarkable performances or indispensable support, have contributed to the development of sports in Saint-Lambert.
Patrick Leduc, for his remarkable career in soccer and his exceptional achievements in sports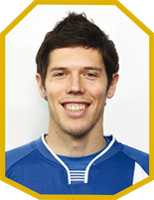 Born in Saint-Lambert, Patrick Leduc started playing soccer at the age of six with the Saint-Lambert Soccer Association, where his passion for the sport was born. Naturally talented, he continued developing his skills in his teenager years on various regional South Shore teams. Thanks to a scholarship, he was able to play for Fairleigh Dickinson University in Teaneck, New Jersey from 1996 to 2000.
In the spring of 2000, Patrick Leduc was signed by the Montreal Impact and played his first match as a midfielder at the Centre Claude-Robillard. In 2010, after 11 seasons with the team, Leduc played his final game in a semifinal matchup against the Carolina RailHawks. During his years with the Impact, he helped the team win the A-League Cup in 2004 and the North American Soccer League (NASL) Cup in 2009.
Since his retirement from the Impact in March 2011, Patrick Leduc has covered soccer for La Presse, and he joined RDS as a soccer analyst for the shows Sports 30 and 5 à 7. He has also served as an analyst for major events, such as the Euro and the London 2012 Olympic Games.
Jacques Soucie, for founding the Saint-Lambert soccer association and for his sustained contribution as a builder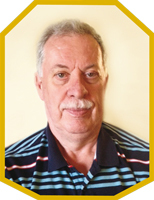 Jacques Soucie was born in Saint-Lambert and has lived here all his life. After first becoming involved in hockey as a young adult, he moved on to soccer, only to devote himself entirely to the sport for the next 40 years. Along with a few other soccer buffs, he founded the Saint-Lambert Soccer Association and, in 1985, took part in its official incorporation. As vibrant and popular as ever, in 2015, the Association celebrated its 30 years of existence.
Jacques Soucie has always believed in the value of volunteering. When he first became involved, he did not have children of his own. He continued to work with the Association with his children, Dominique-Anne and Jean-Christophe, who, following their father's lead, have made their own contribution to community sports. Jacques Soucie continued to serve as a volunteer long after his children's careers as young soccer players had ended.
There is no question that Jacques Soucie has made a lasting contribution to the development of soccer in this city. One only has to observe the throngs of young and not-so-young people who stop to greet him all around town to appreciate the indelible mark he has left on our community!
Steve Kasper, in recognition of his remarkable career in hockey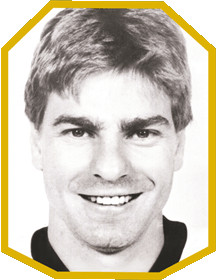 Steve Kasper started playing hockey with the Saint-Lambert Minor Hockey Association at five years of age and continued to develop his skills within that organization until age 16. During that time, he participated in the Saint-Lambert/Marblehead hockey exchange seven times.
In 1997, Steve was drafted by the Verdun Blackhawks of the Quebec Major Junior Hockey League (QMJHL). In his third season, after recording 57 goals and 65 assists, he was drafted by the Boston Bruins in the fourth round. During his 13-year career in the National Hockey League (NHL), he played in 821 regular season games and another 94 playoff games, scoring 177 goals and adding 291 assists for a total of 468 points in the regular season along with 20 goals and 28 assists in the playoffs. He won the Frank J. Selke Trophy as the league's best defensive forward during the 1981-82 season.
After his playing career, Steve served as an assistant coach for the Boston Bruins during the 1993-94 season. The following year, he was named head coach of their American Hockey League (AHL) affiliate, the Providence Bruins. He was then promoted to head coach of the Boston Bruins and served two years in that capacity. He went on to found his own sports management company, Kasper Sports Management International Inc., and represented several NHL players, including Mathieu Darche and Steve Montador. Steve Kasper is currently the Director of Professional Scouting for the Toronto Maple Leafs.
Marie-Luc Arpin, in recognition of her remarkable career in water polo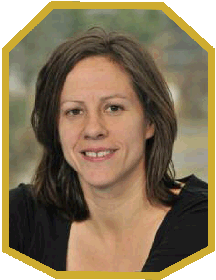 Marie-Luc Arpin has distinguished herself in the world of aquatics, and more specifically in the game of water polo. She got her start in this sport on the Saint-Lambert team in 1989, and played with them until 2005. A member of Canada's junior water polo team from 1994 to 1997, she soon earned a spot on the senior team, where she remained from 1995 to 2005. During that time, she competed in a host of major events, including the 1998, 2001, 2003, and 2005 FINA World Championships; the 1999, 2001, and 2003 Pan American Games; and the 2000 and 2004 Olympic Games in Sydney and Athens.
Her remarkable performances garnered her numerous distinctions, including that of MVP at the 1996 Junior Pan American Games and at the 1993, 1994, 1996, and 2002 Canadian Championships. She was also chosen as a member of the all-star teams of the 1995 World Junior Water Polo Championships, the 1996 Canada Cup, and the 1993 to 1996, 1998 to 2002, and 2004 National Championships.
Generous with her time and expertise, Marie-Luc was involved in the Saint-Lambert community as, among other things, a trainer from 2006 to 2007, helping young players hone their water polo skills.
Walter Charron, for his many contributions to the sports of football and curling, as both an athlete and a builder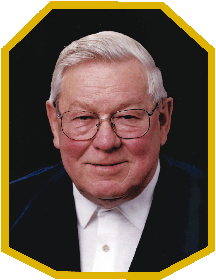 Walter Charron's accomplishments in the realm of sports extend beyond the borders of Saint-Lambert. His first exploit dates back to 1944, when, as a member of the Montreal Navy football team of the HMCS Donnaconna unit, he helped win the Grey Cup over the Hamilton Wildcats, who had been the favourites to win.
In 1969, he was the founding chairman of the Saint-Lambert Curl'In. In 1985, he was invited to become a member of the exclusive Governor General's Curling Club in recognition of his contribution to the sport. In 1995, he was inducted into the Canadian Forces Sports Hall of Fame. From 2001 to 2002, he served as the president of the Governor General's Curling Club, and, in 2005, was made an Emeritus member.
Eric Sharp, first director of the Recreation Department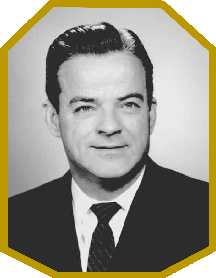 Eric Sharp contributed to the development of sports in Saint-Lambert in his capacity as the first director of the Recreation Department of Saint-Lambert. His leadership qualities propelled him rapidly to the helm of the municipal department responsible for organizing sports activities. His many accomplishments include the presidency of the Association québécoise des loisirs et des parcs from 1961 to 1966. Mr. Sharp was one of the original organizers of the Saint-Lambert/Marblehead hockey exchange, which remains, to this day, the longest-running such exchange in North America.
Mr. Sharp continued to be involved in the Ville de Saint-Lambert administration, serving as mayor from 1986 to 1990.
Okill Stuart, co-founder of the Saint-Lambert Curling Club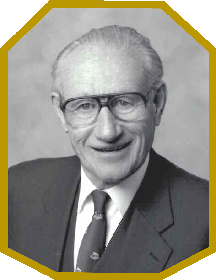 Okill Stuart was one of 98 people who wanted to see a curling club founded in Saint-Lambert. In 1955, the dream became a reality. Since it was founded, the Saint-Lambert Curling Club has played a dynamic and active role in the community. Its members include Guy Hemmings, who represented Québec on several occasions in the Brier (Canada's national curling championship), and François Vary, who was named Canadian Curling Association's Volunteer of the Year in 2003.
Today, Mr. Stuart is an honorary life member of the Saint-Lambert Curling Club and can boast that he contributed to the ongoing success of this sports club.
Community Sports Organizations (CSA), organization responsible for community sports activities from 1943 to 1981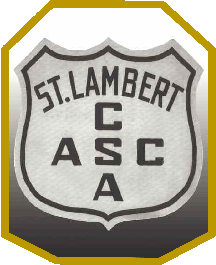 Saint-Lambert has always encouraged sports and physical activity within its community. Prior to the establishment of a recreation department, the visionary spirit of a group of residents led to the formation of the Community Sports Association (CSA). Its goal was to promote and encourage sports and other recreational activities in the community.
Interested in the population's well-being, the CSA organized fundraising activities so that it could offer a variety of sports and other activities free of charge to the children of Saint-Lambert. These activities were all run by the CSA's committed and energetic volunteers. The CSA was active for nearly 40 years prior to the creation of a recreation department in Saint-Lambert, which would henceforth assume the responsibility for organizing the community's sports activities.
Thomas R. Hunter, in recognition of his remarkable career in golf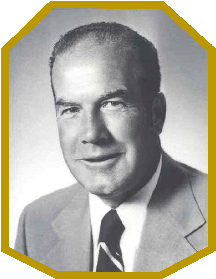 Thomas R. Hunter is a name that is synonymous with success in the Canadian amateur golf world since 1940, when he won the Quebec Junior Championship. He has represented Quebec in national competitions on six Willington Cup teams and won the Provincial Best Ball championship three times. He also carried Quebec colors on four Senior Teams, including the 1979 and 1981 teams that won national championships. However, most golf enthusiasts remember his play as a member of the Canadian team that played against the British Walker Cup team in 1949. Partnered with Don Varay of Brantford, Ont., they won 5 and 4 over their British rivals to give Canada a draw in the 36-hole event, the finest showing to that time by Canada in the famous Cup series.
Tom also excelled in other sports. He played junior hockey in St. Lambert and then with the Junior Royals and Junior Canadians. He was a member of the R.C.A.F. team that won the National Defence title. As a curler, he represented Quebec in national finals on six occasions since 1970 and in 1979 skipped the Legion team that won the Canadian title. He also held a provincial breast stroke record in swimming which held up for nearly two decades. Tom was born in St. Lambert on February 1, 1923, and was educated there. He served with the Royal Canadian Air Force in the Second World War as a pilot.
Janet MacWha, in recognition of his remarkable career in golf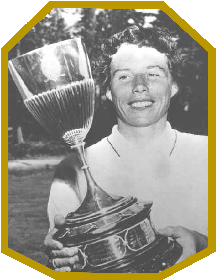 Janet MacWha, who blossomed as a star when a member of the Country Club of Montreal, rates as one of Canada's foremost lady golfers. She savored the sweet taste of victory in junior, provincial, national and international competition. Over the span of a decade, she was rated in the Top 10 Canadian players. As a junior, she won the Quebec title in 1952 and 1956. Then followed a remarkable string of success: member of the Quebec ladies team 1954-1960; member of Quebec title team 1960; Montreal City and District champion three times; four time finalist in Quebec Amateur; Ontario match play champion in 1960; seven time member of British Columbia team; captain of four Canadian championship B.C. winning teams; B.C. champion 1961 and Canadian ladies titlest of 1961.
She was finalist in the Pacific Northwest championships in 1962; Vancouver City and District winner three times; reached quarter finals in the U.S. Amateur Championships; captured three Nova Scotia titles and was six time member of the Nova Scotia teams to the Canadian championships. Golf was not her only athletic achievement. She starred in swimming, track, basketball and volleyball. She was chosen Athlete of the year at Macdonald College and took a similar award in the St. Lambert CSA, where she also served as a director and coach. At her induction into the Saint-Lambert Hall of fame, she was a History and English teacher in Vanier Junior High School in Waverley, N.S., where she continued her involvement in sports as coach of tennis, golf, badminton and skiing.
Doug Bennett, in recognition of his remarkable career in canoeing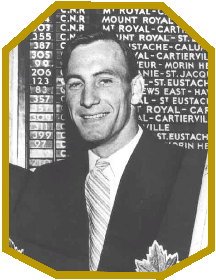 Doug Bennett was an athlete, who through determination and natural talent, achieved success in many sports. He earned his greatest acclaim as a paddler, capturing a silver medal in singles at the 1948 Olympic Games in London, England. This achievement came after a comeback to competition that had been interrupted by a six year term of duty overseas with the Canadian Medium Artillery during the Second World War. Born September 13, 1918, in St. Lambert, Doug attended St. Lambert public and high schools, where he began his athletic career, which was to become one of the best in Canada.
Doug was outstanding both in football and hockey. As a kicker and running back, he played on the 1935 St. Lambert High School team that won its first intermediate title. He was a member of the D'Arcy McGee High School senior football champions in 1936 and in 1937-38 was a star with the Montreal Indians in the Big Four, predecessor of the Canadian Football League (CFL). As a hockey player, he was on championship junior teams and was to have joined the Paisley team in Scotland when war broke out. But canoeing was his first love and his string of provincial and national titles, capped by his great Olympic medal victory, was to bring him the Montreal Sportsmen's Association Athlete of the Year Award in 1948.
Kenneth Grant, in recognition of his remarkable career in canadian football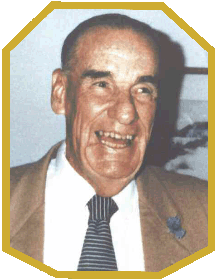 One of the men who helped revolutionize the Canadian football game as we know it today, was St. Lambert's Kenneth "Kenny" Grant. He caught the first forward pass in a Grey Cup final for a touchdown when the MAAA Winged Wheelers defeated Regina Roughriders 22-0 in 1931. The pass was thrown by Warren Stevens, an import from Syracuse University, where the forward pass was already an integral part of the U.S. game.
Kenny began his football career in 1924 with the St. Lambert Juniors. In 1928, he joined the Westward Intermediates for two seasons. In 1931, he became a member with MAAA of the "Big Four" and over four seasons was an outstanding performer. While football was his main love, Kenny starred as a boxer and hockey player. He won the 155 pound Canadian amateur title in 1923, after many victories on the Montreal ring scene. He reached top rating in hockey. From 1932 to 1940, he was a defenceman with the Montreal Canadians Club in the famed Senior Group League. He also played five seasons with the C.P.R. team in the Montreal Railway Phone League, which won two championships while he was a member. A lifetime resident of St. Lambert, Kenny was well known in golfing circles as a member of the Country Club of Montreal.
David Parsons, president of the Community Sports Association (CSA)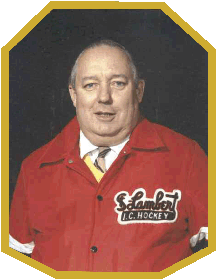 For a person to serve 33 years in the guidance of youth in sports and recreation is a mark few could claim. That's what David "Doogie" Parsons did on the St-Lambert scene. Beginning in 1940, he was to excel as a sports executive, manager, coach, umpire and referee. Added to all this was a successful business career as a financial expert in the petrochemical industry, three years at McGill University and serving as an officer in the Royal Canadian Air Force.
On the sports front, Doggie was president of the Saint-Lambert CSA for three terms (1961-1963). He was director or councillor of the CSA from 1951 to 1981 and served as chairman for five different CSA projects. He was secretary of MARK Committee on master plan for development of parks, playgrounds and athletic fields in 1955 for the City of St. Lambert, acted as chairman of sports events for the St. Lambert Centennial in 1957 and was a member of the Municipal Arena Design Committee in 1960. "Doogie" was "Mr. President" for four different sports groups as well as heading up the St. Lambert "Teen N Twenty Club". Among his major accomplishments was being manager or coach of the St. Lambert Pee Wee hockey team which travelled to the Goderich Ontario tournament 27 times. His many other awards and recognition are too numerous to list. A truly dedicated citizen.
Ian K. Hume, in recognition of his remarkable career in athletics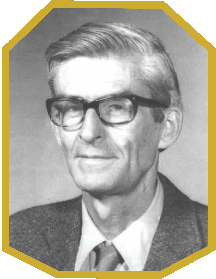 Competitor, coach, administrator, referee, these are just part of the profile of Ian K. Hume's contribution to the world of sports. He was born in Foster, Quebec on August 20, 1914. Hume was a high school teacher in St-Lambert for 24 years. It was from this starting block that Hume was to build an outstanding reputation in the community's athletic sphere.
As a competitor, he was one of Canada's best in track and field. He was a medal winner in city, provincial and national meets. He was a member of the Canadian team in the 1954 Commonwealth Games in Vancouver. He won eight gold, eight silver and four bronze medals in the World Association of Veteran Athletes championship and was holder of the World Best Performance (age 65-69) in high jump, triple jump, pentathlon and decathlon. He coached many St-Lambert CSA athletes who won provincial and national crowns in track and field. He also coached Canadian Pan-Am and Commonwealth Games teams and handled track and field members at McGill University for four years. His administrative work led him to top positions from high school to major world groups and he worked a similar course as a technical official. Ian holds numerous awards for his sports achievements and community work. In 1981 he was named a Member of the Order of Canada.

Andrew B. Martin, founder of the Saint-Lambert Amateur Athletic Association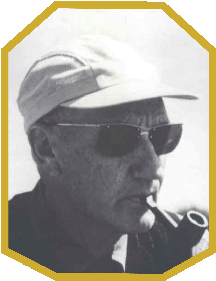 Andrew B. « Andy » Martin was born in Paisley, Scotland, October 29th, 1893 and died at Yarmouth, N.S., March 12th, 1967. But for many in St. Lambert, he was just like a native son because of his community involvement during the many years he lived in the city.
Though a keen swimmer, dinghy sailor, skier and snowshoer, he became seriously attracted to paddling after his family moved from Maisonneuve to St. Lambert in 1929. He was a driving force during a spell that saw many St. Lambert paddlers reach international prominence in the sport. Andy was one of the organizers of the St. Lambert Amateur Athletic Association which succeeded the old St. Lambert Boating Club. He reached the top in national paddling circles when he was named Commodore of the Canadian Canoe Association in 1940. On November 18, 1943 Andy Martin was elected the first President of the CSA (Community Sports Association).