Environmental Responsibility
The 2023 annual collective garage sale will take place the weekend of June 10 and 11, from 8 a.m. to 4 p.m.
More than a simple trend, the notion of environmental responsibility (which means acting in accordance with the principles of sustainable development) is growing in popularity. The general public is increasingly aware of the importance of sustainable development. People want to make environmentally responsible choices and to be offered such choices when they consume products and services: locally produced and fair-trade supplies, reduction at source, energy efficiency, and much more.
Whether you're just beginning your journey of environmental responsibility or are already streamlining your practices, you're sure to find some new ideas on this web page.
Windshield washer fluid filling station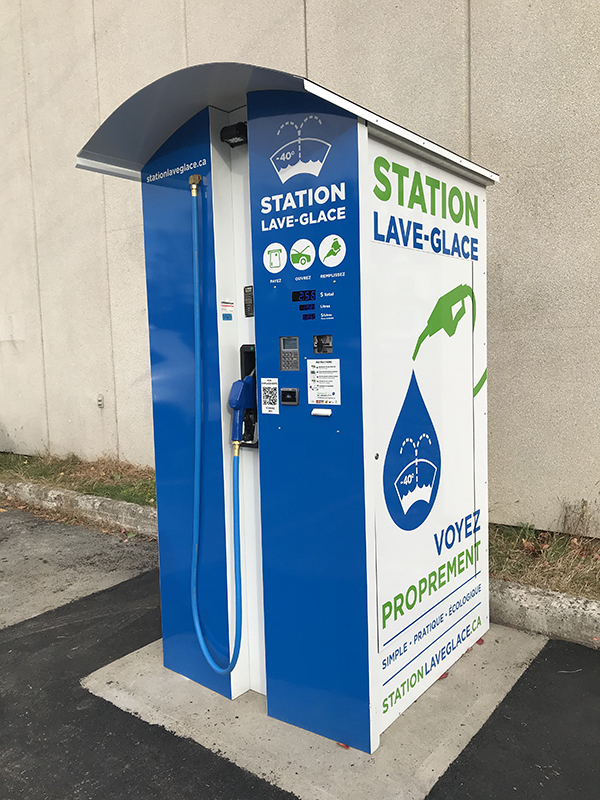 The City is very proud to offer its residents this service. The self-serve windshield washer fluid filling station is available now in the parking lot at City Hall.
Simply insert the nozzle directly into your car's windshield washer fluid reservoir and fill it up.
Users are billed $1.10 a litre for the quantity of product dispensed. Payment can be made with a credit card directly at the station.
All profits go directly to the municipality's green fund.
This installation offers many advantages:
Eliminates windshield washer containers
First and foremost, this acquisition addresses an environmental problem. In fact, data from the Société de l'assurance automobile du Québec (SAAQ) indicates that in Québec, an estimated 22 plastic washer-fluid containers are used annually. Of this number, 85% go directly to the dump.
The installation and use of windshield washer filling stations helps reduce the use of plastic at the source, and consequently, greenhouse gas emissions. After one year of operation, the filling station, which is located in the City Hall parking lot, eliminated the use of 1,666 plastic containers!
Just like at the gas pump, you simply drive up, open your windshield washer reservoir, insert the nozzle directly into your fluid reservoir, and fill it up.
By paying by the millilitre, you buy only the amount of washer fluid you require, and you no longer have to lug around halfempty fluid containers!
Garage sales
Just because an item isn't any use to you anymore doesn't mean it can't be of use to someone else! Before throwing something out, think how it might be reused. Garage sales are a great way to find bargains and give your items a second life.
Garage sales are a fun way to give used articles a second life. Items that are bought don't end up in the garbage can.
To hold a garage sale, you must obtain a permit from the Urban Planning, Permits and Inspection Department at a cost of $25 (limit of one a year). Sales can be held on Saturdays only, between 8 a.m. and 4 p.m., but can be postponed to the next day in the event of rain.
Print the application for a garage sale permit (in French only). Bring the completed form to the Urban Planning, Permits and Inspection Department to obtain your permit. Certain fees apply.
Community-wide garage sale
A city-wide garage sale is held over one weekend every spring. It's the perfect opportunity to find bargains and chat with neighbours by either making the rounds of the sales or organizing your own. On that weekend, a permit is not required. Check the calendar to know this year's date.
Ban on single-use plastic bags
Between 1.4 and 2.7 billion shopping bags—mainly plastic—are handed out in Québec every year, but only 16% are recycled. The others often end up in the environment, where they have major impacts. To help reverse this deplorable situation, Saint-Lambert has joined the movement initiated by the Communauté métropolitaine de Montréal (CMM) to permanently ban single-use plastic bags on its territory.
With the new by-law adopted by Saint-Lambert City Council in May, effective January 1, 2023 it will be prohibited to distribute single-use shopping or advertising bags to customers, unless they are made of recycled paper. The City will also prohibit the use of all discardable plastic materials (individual water bottles, utensils, straws, etc.) at municipal events or events organized in partnership with the municipality.
Every gesture matters when it comes to protecting the environment. So be sure to do your part: remember to take your reusable bags with you when you go food shopping or to the drugstore.
Consult the by-law (in French)
Cloth diapers
Using cloth diapers is one of the most eco-friendly choices as it diverts tonnes of waste from landfills. To encourage families living in the municipality to use cloth diapers, the City of Saint-Lambert is offering financial assistance to parents who purchase reusable diapers.
Cloth diapering is both an eco-friendly and economical choice for several reasons:
In Quebec, more than 600 million disposable diapers end up in landfills each year. They will take between 300 and 500 years to decompose compared to 6 months for cloth diapers.
The production of disposable diapers uses 41% more water than the manufacturing and maintenance of reusable cloth diapers.
The cost of using disposable diapers is between $2,000 and $2,500 per child from birth to the time he or she is toilet trained, while cloth diapering costs from $700 to $1,000, including laundry costs.
Cloth diapers can be reused for a second child. In addition, they are comfy and more hygienic for babies, and can help speed up the potty training process.
Families who choose to use cloth diapers can receive a grant equivalent to 50% of the cost of a set of at least 20 cloth diapers, up to a maximum of $100. One subsidy per child, per bill.
How to benefit from the grant?
To receive the subsidy, parents must:
Have a baby born after December 1, 2022;
Live in the municipality of the City of Saint-Lambert;
Fill out the application form by November 30, 2023 at the latest;
Provide the following documents with the form:
- The bill for the purchase of a set of at least 20 washable cloth diapers;
- A copy of a proof of birth (child's birth certificate or declaration of birth);
Bring the form and supporting documents in person or mail them to the Saint-Lambert Recreation centre:
Cloth diaper subsidy program
City of Saint-Lambert
600 Oak Avenue
Saint-Lambert, QC J4P 2H3
The City will study the application and, if it qualifies, will mail a cheque to the applicant.
Environmentally responsible event
Would you like to organize an environmentally responsible event here in Saint-Lambert? Whether for a small meeting or a major event, the Ville de Saint-Lambert encourages you to adopt environmentally responsible practices.
The Ville de Saint-Lambert has developed a guide to help you out. It describes simple, effective ways to improve the environmental performance of your event. This guide is a tool designed to help you better plan, execute and evaluate your environmentally responsible efforts. It is meant to assist and inspire you so that you can organize your event with minimal impact on the environment.
Consult the guide (in French only)
What is an environmentally responsible event?
It is an event that integrates the principles of sustainable development at all stages of the organizing process. It reflects a long-term vision that takes into account both current needs and those of future generations.
Its aim is to reduce environmental impacts while maximizing the positive social and economic benefits.
This guide is designed to help you choose your action priorities. It asks you to complete the various key sections and to check off (√) the actions you wish to take. It also asks you to record your results and evaluate your actions using the removable evaluation checklist.
The suggested measures are not listed in order of priority. You are free to determine the actions that will have the potentially greatest impact, depending on the nature of your event. The city's Environment Division will be pleased to assist you in your process.
You reduce the environmental impacts by limiting overconsumption of resources, greenhouse gas (GHG) emissions, and waste production.
You contribute actively to improving the living environment and quality of life of current and future generations.
You save time and money.
You support the local economy.
You set an example and help promote a green culture.

Environmentally responsible business
The Ville de Saint-Lambert, in collaboration with the Environment Committee and Réseau écocitoyen de Saint-Lambert (ecocitizens network), has developed a Guide du commerçant écoresponsable (in French only). Its purpose is to help business owners and citizens adopt the best consumer practices. Here you will find the main concepts explained in this guide.
The 5R's principle, known in French as the Principe des 4RV, is the basis for all environmentally responsible processes. Familiarize yourself with its basic tenets, which should be applied in the following chronological order:
Rethink: Take the time to reflect on your real needs, your practices, and your consumer product choices.
Reduce: Avoid using products that quickly turn into waste. For example, avoid overpackaging, buying disposable products, or distributing promotional items.
Reuse: Give objects a second life. For example, use washable dishware or tablecloths. Use the reverse side of pieces of paper for drafts.
Recycle: When a product can no longer be reused, recycle it. In addition to reducing the amount of waste that goes to landfills, recycling reduces the pressure on raw materials. Check out beforehand whether a product is recyclable.
Recover: Convert your non-recyclable waste into energy or compost!
Procuring and selecting products
Suppliers
Choose local suppliers (located within 100 km);
Prioritize suppliers that adopt environmentally responsible practices: sustainable development policy, ISO certification, etc.
Products
Buy in bulk and request reusable packaging from your suppliers. Examples: boxes, cases, pallets, etc.
If food is involved, choose seasonal, organic and fair-trade food items.
Give preference to refillable or rechargeable products, such as bottled condiments rather than individual packets, batteries, or ink cartridges.
Keep in mind the whole life cycle of articles purchased.
Find out about labels and current environmental statements in Canada: Office of Consumer Affairs.
Food consumed on the spot
Opt for washable foodware.
Take-out food
Offer a rebate to customers who bring their own reusable containers;
Develop your own reusable cups and dishes to earn customer loyalty;
Use biodegradable foodware (non-waxed, non-plasticized cardboard, bamboo, bagasse [plant fibre]);
Recyclable foodware (numbers 1 or 5 plastic).


Did you know that…?

Polystyrene or number 6 plastic and waxed cardboards are not accepted in your recycling bin. These articles take hundreds of years to decompose in landfills.

Despite what their names suggest, biodegradable or oxo-biodegradable plastic containers are rarely accepted in organic waste collections. Avoid using them.
Here are some tips to help you adopt more environmentally responsible practices when it comes to packaging:
Prioritize the sale of bulk products and encourage your customers to bring their own containers. Take inspiration from the Loco grocery store in Montreal and register on Circuit Zéro Déchet for greater visibility.
Avoid overpackaging. Some products packaged in three layers might not need any at all. Ask yourself if packaging is necessary before bundling up a product.
Replace polystyrene trays by recyclable plates made of number 1 or number 5 plastic.
Avoid individual packaging for bread, butter, condiments, etc.
More compact packaging requires less material and reduces packaging costs.
Replace single-use plastic bags.
Ask customers if they want a bag rather than offering them one automatically.
Re-use your delivery boxes: offer them to customers to carry their purchases.
If you absolutely have to give a customer a bag, replace the traditional single-use plastic bag by a reusable bag.
Choose a durable bag made locally and from recycled materials. Choose an appealing design and think about its usefulness. Bag proposals were made in further to the recommendations of the Communauté métropolitaine de Montréal (CMM).
Distribute fewer promotional items. By doing so, you will avoid the needless costs associated with purchasing items that often just end up in the garbage!
Opt for truly practical items that your clients are sure to use. Examples:
A BPA-free water bottle or thermos
a reusable bag;
A USB key, etc.
Environmentally responsible promotional items should have the following qualities:
Made of recyclable materials
Entirely recyclable
Durable
Made locally
Suppliers committed to sustainable development
Have environmental or social certification.
Some Québec companies specialize in this type of product!
Keep in mind the whole life cycle of the product

Source : Équiterre
Consult Équiterre's Guide to Sustainable Promotional Products.
Here are some tips to help you manage your waste in an optimal and environmentally responsible manner:
Find out which recyclable materials are accepted at your sorting centre.
Pass on this information to your employees and make sure they have access to a recycling bin.
Flatten your cardboard boxes so they take up less space.
Provide a recycling bin alongside each garbage bin in your establishment, and, if applicable, a composting bin.
Install clear signs.
If you generate a lot of food waste, sign a private contract for organic waste collection. Promote this fact among your customers to earn their loyalty. Form partnerships with charitable organizations in your region to redistribute unsold foodstuffs. The Food Recovery Program of La Tablée des Chefs serves as a liaison agent between producers of food surpluses and organizations that distribute food to people in need.
Dispose of your hazardous household waste in the proper manner by using the services of a certified organization.
Take your obsolete electronic products to an authorized drop-off point.
Consult the ARPE-Québec directory to find a local drop-off point.
Dispose of your construction, renovation, or demolition debris by using the services of a member of the Regroupement des Récupérateurs et des Recycleurs de Matériaux de Construction et de Démolition du Québec;
Become a drop-off point: light bulbs and fluorescent tubes, paint et par batteries and cellphones.
Here are a few tips to help you reduce your business' energy consumption:
Use ENERGY STAR®certified LED bulbs. In addition to their low energy consumption, these bulbs have a much longer service life than incandescent bulbs.
Consult Hydro-Québec's energy-wise safety advice at LED lighting.
Turn off the lights when you leave rooms.
Install motion detectors.
Switch off any computer equipment when leaving your business in the evening.
Check your building insulation.
Eliminate air leaks by caulking drafty windows and doors and installing weather stripping.
Insulate your hot water tank and pipes to save on water and energy. By lowering the temperature by just 1 °C, you can save from 5 to 7% on your heating costs.
Turn down the thermostat in the evenings and on days when your business is closed.
Install a programmable thermostat.
Choose green electricity and consider renewable forms of energy.
Opt for ENERGY STAR®certified products.
Green your walls and roof. Green walls and roofs offer several benefits: they are aesthetic, anti-polluting, insulating, and economical; they protect the building façade and roof against UV rays, etc. You can even grow your own herbs and vegetables on them,
Potable water consumption
Here are a few tips to help you reduce your potable water consumption.
Repair any leaks immediately! A leaky tap wastes from 140 to 680 litres of drinking water a day, while a leaky toilet wastes up to 550 litres of potable water a day.
Install aerators on your taps to limit the flow while maintaining sufficient pressure.
Replace standard toilets by low-flow toilets. Using a standard toilet requires 12 to 20 litres per flush compared to 3 to 6 litres per flush for a high-efficiency toilet.
Opt for WaterSense® certified products when buying fittings, sanitary fixtures and watering systems.
Here are a few tips to help you use transportation in an environmentally responsible way.
Make your deliveries by bicycle, cargo bike, or electric vehicle.
Install a bicycle stand near your store or business.
Install quick charging stations in your parking lot to encourage electric vehicle owners to visit your business.
Meet with a travel management consulting services company for sustainable transportation solutions adapted to your needs and those of your employees.
A few additional references
Download the Guide du commerçant écoresponsable
Got questions?