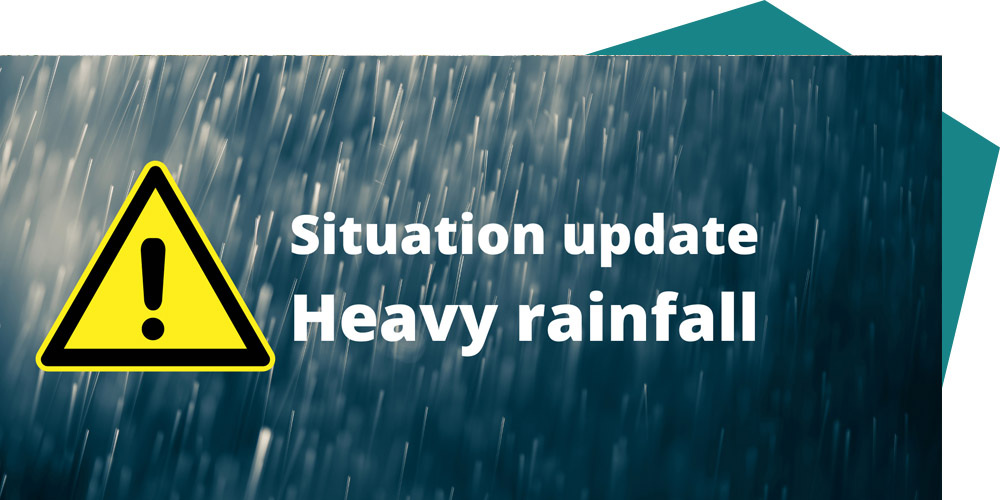 Back to news
Heavy rainfall: Situation update for Saint-Lambert
Published on 14 Sep. 2022
Following the heavy rains that fell in the region on September 13, the Ville de Saint-Lambert wishes to inform its residents of the current situation.
According to the preliminary data we have obtained, we received more than 60 mm of rain over a very short and intense period. This qualifies as an exceptional meteorological event. Several cities, including Longueuil and Montreal, were also affected by this phenomenon. Such heavy and abundant rainfall in a short period of time creates the perfect conditions to cause flooding and backups.
Our Public Works crews were quickly mobilized to take action on the ground. During the evening, crews were dispatched throughout the territory to check on the control devices and catch basins, to come to the aid of citizens by pumping out water that had accumulated in certain areas where the situation was critical, and to ensure the integrity of municipal buildings and grounds. By late evening, the amount of water in the network had decreased significantly, and many problems had been resolved.
Some water had also accumulated in a number of municipal buildings, including the recreation centre and arena, the multi-purpose centre, the former City Hall, and the library. Clean-up work is currently underway, and, with the exception of the library's children's section (0 to 8 years), which is closed, other services are operating normally.
The Ville de Saint-Lambert knows that many residents have been victims of flooding or backups and is genuinely sorry about the situation. "I hope that all affected citizens are coping well and that they have the necessary resources to deal with the situation. I wish them courage, resilience, and a return to normalcy as soon as possible," said Mayor Pascale Mongrain.
The Ville de Saint-Lambert invites residents to consult the following link to find out what to do after a flood: https://www.quebec.ca/securite-situations-urgence/urgences-sinistres-risques-naturels/inondation/que-faire-apres?fbclid=IwAR3-ihM1bzEbE83ybiMBtfMwmQEi4N-WZpEijItXCRVC78XFg5zxjDApcks#c134683
"Finally, I would like to close by warmly thanking all the municipal employees who were called upon and who acted promptly, professionally, and with humanity and dedication throughout the evening. The deployment of our municipal emergency measures went smoothly, demonstrating the high level of preparation on the part of our teams. The collaboration with the emergency services of the Longueuil Agglomeration was exemplary," concluded the mayor.
Associated categories :

Other
Back to news