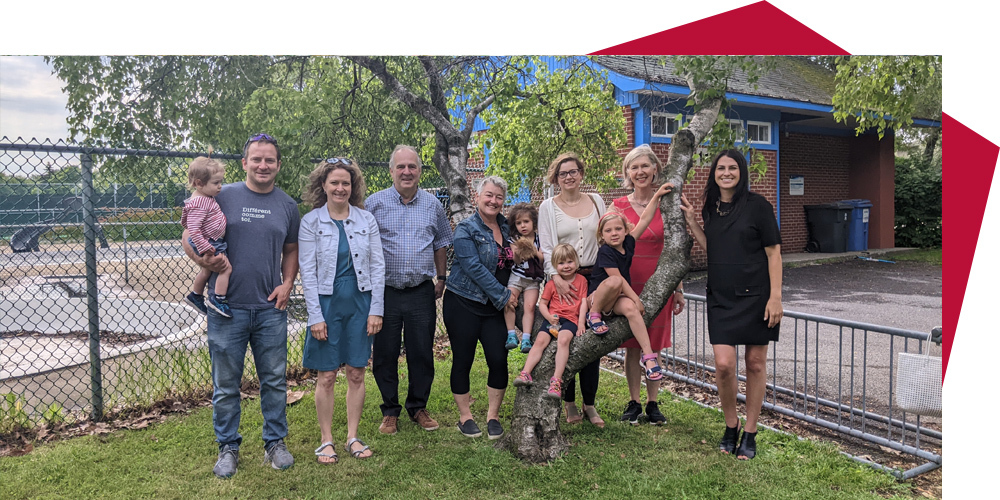 Back to news
80 new daycare places will be created: The Ville de Saint-Lambert has announced its intention to sell the Préville Park swimming pool land to CPE Agathe la Girafe
Published on 16 Jun. 2022
At its regular meeting on June 13, Saint-Lambert City Council adopted a resolution confirming its intention to sell the Préville Park swimming pool land to CPE Agathe La Girafe so it can build a new facility offering 80 new daycare places.
"During the last electoral campaign, many Saint-Lambert residents drew our attention to the dire shortage of daycare places. The acceptance of the CPE Agathe la Girafe's project by the Ministère de la Famille was the trigger that led us to choose this site, which, according to City Council, best addresses parents' concerns and offers exceptional synergy with the park, its facilities and École Préville. Moreover, the City's current financial capacity did not allow us to completely rebuild two new outdoor pools. It was therefore a logical choice to secure the future of the sector and the City," explained Mayor Pascale Mongrain.
You will recall that we had to close the Préville Park pool in July 2021 to carry out major restoration work. The revenues generated by the sale of the land will mean that the City can invest in improving Préville Park and installing splash pads in the future.
A new daycare facility
Addressing the shortage of daycare places in Saint-Lambert, the new facility will offer 80 new places for children ages 0 to 5 years, including 20 spots for infants. The project involves an investment of roughly $1.8M from the Ministère de la Famille, and in turn will lead to the creation of some 20 jobs. Work should begin in the summer of 2023, with the opening expected in winter 2024.
Due to its quality, the CPE Agathe la Girafe project was selected to take part in a pilot project run jointly with the Ministère de la Famille and the Association québécoise des CPE (AQCPE) that allows for a prefabricated building. The new facility will therefore be a modular structure, which is both environmentally friendly and aesthetically appealing. This approach will also mean that the building can be adapted to the local community and environment, while rigorously adhering to the City's land-use rules and regulations.
"We have been working for several years now to provide Saint-Lambert residents with extra daycare places. By the end of the process, we will be offering a total of 253 places across our three facilities and will have more than 90 employees. My team and I are extremely proud of the phenomenal amount of work that has been done during the pandemic. All the stakeholders acted with passion and dedication, as the results show," commented Lyse Camerlain, executive director of CPE Agathe la Girafe.

This project is the result of a collaborative effort by the City and CPE Agathe la Girafe. A number of steps remain, particularly those of obtaining government and municipal approvals with regard to the applicable land-use rules and regulations.
"We are pleased to take this important step in this project, which will be positive for our young families," concluded all members of City Council.
Photo (from left to right) :
Francis Le Chatelier, councillor for District 1; Julie Bourgoin, councillor for District 4; Claude Ferguson, councillor for District 2; Lyse Camerlain, CPE Agathe la Girafe director; Géraldine Ramsay-Lemelin, president of the CPE Agathe la Girafe board of directors; Pascale Mongrain, mayor and Alexandrine Lamoureux-Salvas, councillor for District 3.
Associated categories :

Community life
Back to news