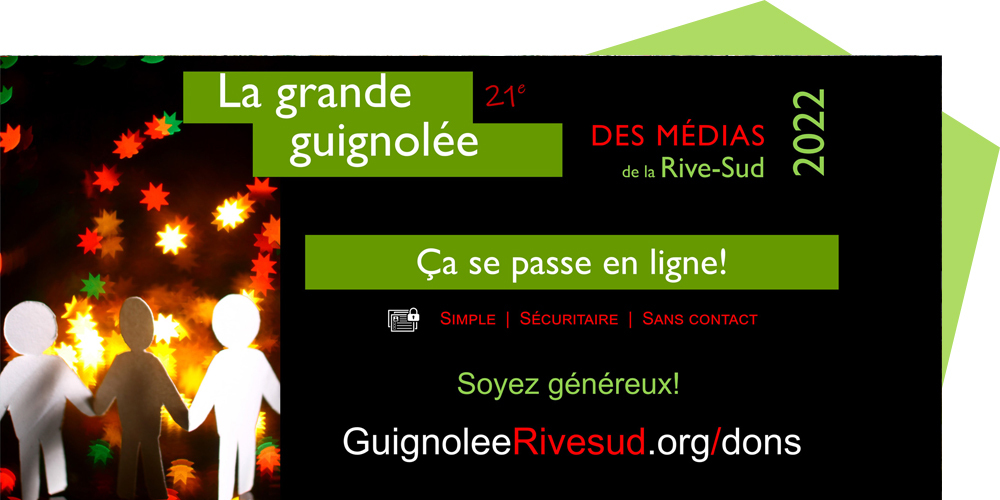 Back to news
The Ville de Saint-Lambert is asking residents to give generously this holiday season
Published on 22 Nov. 2022
The Ville de Saint-Lambert is inviting residents to help those less fortunate among us by contributing generously to the 20th edition of La grande guignolée des médias de la Rive-Sud food drive that will be taking place on Thursday, December 1, from 6 a.m. to 7 p.m. throughout the Longueuil agglomeration.

This major operation seeks to raise money and collect food items that will be distributed to numerous organizations, including a few in Saint-Lambert. The donations will be used to provide food assistance to people in our community who are most in need during the holidays, and also to provide emergency food services throughout the year.
"This year, when everyone is struggling with inflation, I invite the citizens of Saint-Lambert to be even more generous during La grande guignolée des médias de la Rive-Sud. While the holiday season may be filled with festivities and joy for many, we must remember that for others, this is a particularly difficult period. Together, we can help add a touch of hope and cheer to the holiday season for them, remembering that they are part of our community. In Saint-Lambert, helping others and sharing are values we hold dear, and I know that our citizens will answer the call by offering their support to those in need," said Mayor Pascale Mongrain.
For more information about La grande guignolée des médias de la Rive-Sud or to donate online, visit www.guignoleerivesud.org.
In Saint-Lambert, cash or non-perishable food donations will also be accepted at the Jean Coutu Group pharmacies as well as the IGA and Provigo grocery stores. Food donations can also be brought to the drop-off site located at 43 Green Street on December 1, from 8 a.m. to 11 a.m. and from 1 p.m. to 4 p.m.
Associated categories :

Community life
Back to news