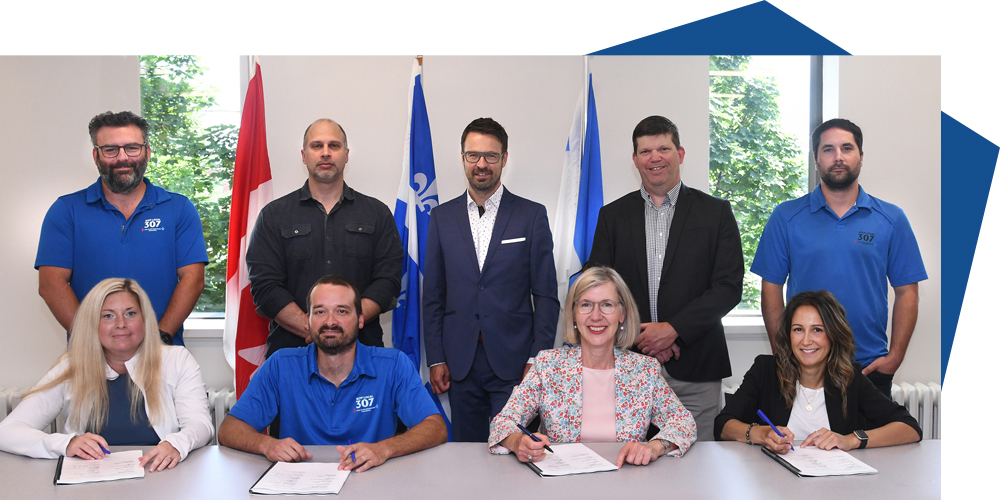 Back to news
The Ville de Saint-Lambert and its blue-collar employees sign a new collective agreement
Published on 14 Jul. 2022
Key officials of the Ville de Saint-Lambert and the Canadian Union of Public Employees (CUPE), Local 307, came together on July 13 to officially sign the new collective agreement for blue-collar employees, covering the period from January 1, 2018, to December 31, 2025.
Both parties are very satisfied with the negotiations, which took place in a climate of mutual respect and whose outcome will contribute to maintaining harmonious labour relations. The new agreement will ensure a more efficent organization of work by providing a greater presence on the territory, which in turn will better serve the population and improve the services offered.
"I congratulate the members on both sides of the negotiating table for the work they accomplished in a climate of respect and openness. The new collective agreement reflects the concern to achieve a fair balance between maintaining favourable working conditions for employees and the population's ability to pay, with the primary goal of continuing to offer quality services that meet the expectations of our citizens," said Mayor Pascale Mongrain.
The leadership of Local 307 joined together in saying: "The Union is very pleased with the outcome of this collective agreement negotiation and thanks the City's representatives for its rapid conclusion in the spring."
"This negotiation was an incredible undertaking that allowed us to re-evaluate the way all work is organized, to adapt it to present-day needs and, in so doing, to consolidate competitive working conditions that will, without a doubt, contribute to the allure of our community. Our employees are our most precious resource, and retaining them or attracting new talent is all the more important in the midst of a labour shortage," said Mélissa Mercure, Director of Human Resources and Communications.
The collective agreement was signed a few days after City Council approved the agreement in principle at its July 4 meeting.
On the picture
1st row (from left to right): Mélissa Mercure, directrice des ressources humaines et des communications; Mathieu Pelletier, directeur syndical du SCFP section locale 307; Pascale Mongrain, mairesse et Marie-Eve Senécal, conseillère en ressources humaines.
2nd row (from left to right): Pierre-Yves Loiseau, président du SCFP section locale 307; François Belzile, vice-président du SCFP section locale 307; Jasmin Savard, directeur général; Éric Painchaud, directeur du génie, des travaux publics et de l'environnement et Marc Edstrom, trésorier du SCFP section locale 307.

Associated categories :

Other
Back to news